In The Mean Time...
Hey, wondering where we went? No worries, we are just changing format and conducting some testing before we flip the switch. For now, you can get all of our new stuff by clicking here..
We aren't quite ready to switch quite yet, but the end result will be a continuous flow of dark and often day-wrecking content from our regular authors as well as other members. It's a work in progress and we are still working on some design and function stuff, but the updated content is now coming through.
April 8, 2007 at 2:29 pm
by
admin
Team XBox has some new screenshots for Activision's upcoming Spider-Man game.
April 8, 2007 at 12:34 pm
by
Morbid
Nine Inch Nails – Year Zero
Artist: Nine Inch Nails
Release Date: April 17, 2007
Ok, so I have been listening to the latest NIN release, Year Zero, and I am surprised to admit that I am loving it. I am also surprised at just how stripped down Trent has taken this album. It is extremely minimalistic and very electronic. Another thing I am liking about this album is that it does not sound like more of Trent's diary.
I know some may be disappointed with yet another artist creating an album that may (or may not) be about our current affairs and government…a theme I usually do not like in my music either…but with a video game, a movie and a second part…this release seems more inspired by our current affairs than about them. Like an electronic soundtrack to a sci-fi film in the same……
April 7, 2007 at 9:48 pm
by
Morbid
[youtube CbvSms-1yj4 video]…
April 7, 2007 at 9:09 pm
by
Morbid
What the fuck am I doing? Well, I am bored with the site. It has become cluttered and after two years, still has no direction. So for now, we are embarking on an actual course. We have no clue what that course is, but goddamn it, we are getting on one. For starters, we will be a WordPress site. Secondly, the old forum will go bye-bye and we will either be using vBulleting or a new PHPBB based. Lastly, I will need a staff of people to help contribute content with absolutely no pay, no perks and absolutely no gratitude from anyone who decides to visit.
As of now, the old forums are being backed up and kinda off-line. This will …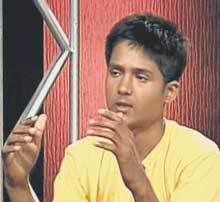 A teenage boy, brought up in a remote village in Northern India, stopped speaking completely for 3 months, and when he started talking again, he was speaking perfect English, complete with a drawl, and had such vast knowledge of mathematics and physics that it left engineering students amazed. Oddly enough, the area of science that Rajesh's most interested in, memory, makes sense, since he seems to have forgotten how to speak Hindi completely.
"He has already written three documents, one on memory, the other on sociology and the third on liberalisation," said an excited Shishu Pal Singh Verma, principal of Willian Jefferson Clinton Science and Technology Centre, where Rajesh was enrolled last year.