November 12, 2008 at 12:44 pm
by
Ruby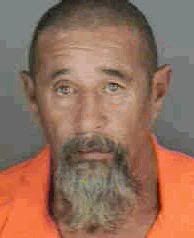 Lauro Garcia Canales
Naples, FL – Lauro Garcia Canales, 55, must have found it hard to find a woman to love him.  With a face like that, is it any wonder?  More importantly, Canales apparently has a bit of a temper.  So he decided that the best way to keep a woman might just be to catch one and lock her up.
On Monday evening, police were called to Canales' small home on Ninth Street North, where Canales opened the door and told officers that everything was just fine.  But apparently, it wasn't.
An unnamed woman stumbled to the door and begged the officers to help get her out of there.  Canales had been holding her hostage.  She'd been staying with him for about a month, and from the outset, he'd been angry.  It began with him punching her, and progressed quickly to choking her — with  his hands and a tire tube — and striking her with a hammer before raping her.
Why didn't she leave?  Well, Canales put plywood over the windows and padlocked the home from the outside whenever he left.  He took her cell phone, too.  I'm surprised neighbors didn't wonder about the plywood and padlocks, honestly.  Does no one question anything anymore??  Though, in fairness, reports don't state who called authorities to the home, so it's possible that a concerned neighbor is our hero of the day.
As for Canales, he was so upset about his atrocious behavior that he dozed off in the patrol car on the way to jail.  No lie.
Welcome to the Dreamin' Demon, Mr. Canales.
Dakota_Valkyrie is pounding on this story over in the forums.
Tags:
hammer
,
hostage
,
Rape