September 7, 2008 at 3:03 pm
by
impqueen
This article written and submitted by Ruby – thanks!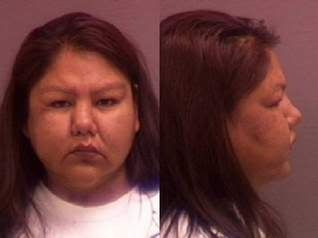 Great Falls, MT - You know how annoying it is when you have a few drinks, put your kids in the car, lead the police on a chase through your town, crash into a parked truck, and get then arrested for driving under the influence, reckless driving, and failure to remain at the scene of an accident?  I, for one, hate when that happens. Imagine how much more inconvenient it is if you have your 2-year-old child in the trunk of the car during the whole ordeal, and somehow "forget" to tell police he's there. That's what happened to Summer Many White Horses.  
On July 21st, Many White Horses put her 11-year-old daughter in the back seat of her car, and her 2-year-old, autistic son James in the trunk. It's unclear right now whether James was alive or dead when she put him there, but the Medical Examiner is fairly certain the crash didn't kill him. She then led police on the above-mentioned chase, was booked charges, and remained in jail until August 10th. Things were quiet for awhile. But on Thursday, September 4th, a missing persons report was issued for James, and police tracked Summer down to ask her some questions.
When the police located her on September 5th and asked about her son, she said he'd been in the trunk of her car since her arrest more than a month earlier. Say what?! And where was the car? Sitting at the repair shop of Carnahan and Sons where the police had towed it following her arrest. Needless to say, police obtained a search warrant, hightailed it over there, and, sure enough, found the badly decomposed body of the toddler right where she'd left him.
Now, I have a lot of questions. I'll bet you do, too.
First, reports say that Ms. Many White Horses was a non-custodial parent. So I really want to know who had custody of James, and why he wasn't reported missing for something like 6 weeks. When Casey Anthony failed to report Caylee missing, it was national news. How come no one seemed to notice this 2-year-old was gone?
Second, why didn't police search the vehicle at the time of the crash and arrest? Wouldn't it be standard operating procedure to at least open the trunk?
Third, why didn't Summer or her daughter mention the boy at any time? This tells me that he was likely already dead. That would also explain why she was so determined to elude police that night. So the question now will be whether it's possible for the Medical Examiner to determine a clear cause of death at this late date.
Poor little guy. Some kids don't stand a chance in this world.
The 11-year-old is currently being taken by a Youth in Need of Care order, and Summer Many White Horses is expected to be charged with Deliberate Homicide on Monday.
Rest in peace, James Many White Horses.
Tags:
Child Endangerment
,
DUI
,
Murder
,
neglect
,
Suspicious Death